Click here to sign
up for our FREE
e-newsletter!



Advertising in Your Newsletter

Classified Advertising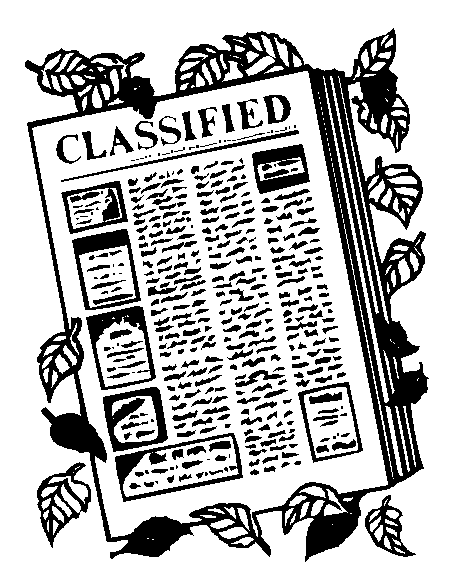 If you are looking for an inexpensive way to add value to your newsletter for your readers, look no further than your back page. While it can be profitable to include advertising in your newsletter, it can also lead to more work on your part, as you solicit your advertisers and include the ads in your newsletter. By establishing a classified advertising section in your newsletter, you can increase the personalization that your newsletter provides and make your newsletter more valuable to your readers. This will increase readership and retention of your newsletter by your readers.
Depending on your audience, you may decide to open up a section of your newsletter to any kind of advertising, or you may want to restrict advertising to a specific type of ad. For example, if you are publishing a newsletter for horse owners in the Napa Valley, you may allow notices advertising the sale of horses, feed, and tack. You may also want to have a "Horses Wanted" section for buyers to express their interest. And your readers may enjoy an "Events" listing.
If your newsletter has a wider audience, or you can't predict ahead of time what your readers may want to advertise, your classified section could be open to all types of advertising. Ads may include employment solicitations, ads from insurance agents, items for sale, lost and found items, and personals, among many others.
Protecting Yourself
You will probably want to include some type of disclaimer in your newsletter, to allow you to reject any ads that you deem unsuitable for print in your publication. We have a standard disclaimer you may find helpful or consider writing a simplified version for your classified page. You will want to be sure to let your readers know that you are not responsible for any claim, statement, or offer made in any ad, and that you will not be held responsible for errors outside of your control. For example,
All information contained in any classified ad is the sole responsibility of the individual advertiser. My Newsletter is not responsible for the accuracy or reliability of said information. My Newsletter reserves the right to review each ad submitted, and to reject or discontinue, revise, and/or reclassify any ad at any time for any reason. Individual advertiser is responsible for all proofreading and verifying of all information of the ad.
What if the advertiser does make a mistake, like giving the wrong phone number or any other typos? You may consider having a one-time revision policy. In other words, once the error is caught by the advertiser, you can offer to rerun the ad at no charge with the correct information in the next issue. Or you may decide to be more stringent in your policy, rerunning the ad only if the mistake was yours. Either way, it is important to state this policy upfront when you accept a classified ad.
Benefits to Classified Advertising
Although a classified advertising section can take up quite a bit of room in your newsletter, generally you will see benefits to allowing this type of advertising. Of course, if you are charging for the ads, you will realize some monetary gains. But even if you are offering the ads for free, your readers will value your newsletter more, as it connects them better with their community, whether that is a neighborhood, a company, a group of aficionados, or other customers of your company. And any time your readers place a higher value on your newsletter, the more loyal they will be to your publication.
For more information on using advertisements in your newsletter, read our other articles in this series.
Article Archives